Hybrid Online/Onsite TEFL Class in Las Peñitas/Poneloya, Nicaragua.
Take the 11 week online course, and then come to the beaches of Leon – Las Penitas/Poneloya for 1-4 weeks of observed/unobserved practicum, to gain real world experience in Latin America. You can complete all of your 20 mandatory practicum hours at our language school in Leon, Nicaragua. The Hybrid TEFL Class Tuition is an add on to the ITA Accredited online TEFL certification.
Tuition: $450
Length: 1 – 4 week(s) of observed student teaching in Las Penitas after you have completed your 150 hour online course. You can complete all of your 20 hour requirements here in Nicaragua.
Dates are here
International TEFL Academy Nicaragua's Hybrid class option is an add on to the 11 week online course, with 1 week of observed practice teaching and invaluable feedback from one of our professors.  How do you know if your lesson was good, bad, or could use some improvement? After taking our hybrid course, you will be a fully functioning English teacher who is confident in the classroom.
Students complete the standard 11 week online TEFL class (young learners and business professional units for free if you so choose in weeks 12-14 as an option). Participating students can complete the online portion of the course from anywhere in the world with an internet connection.
Students will receive basic Spanish introduction and classroom time with discussions lesson plan preparation with an instructor, and role play, before heading off to their teaching practicum in the evenings.
While in Las Penitas teacher trainees will receive:
One on One instructor feedback for 3 student teaching sessions (Beginner, intermediate, advanced level learners.) with real EFL learners.
Networking in person with other ITA Nicaragua students and alumni at graduation party and other scheduled 4 week TEFL class outings.
Advice and assistance in arrival into Las Penitas Nicaragua, housing assistance, and transportation from the airport.
Crash course on survival Spanish
Culture and sensitivity training,
Additional focused lesson plan development instruction,
Classroom management focus,
2 hours of observation in EFL classroom
6 hours teaching time with EFL students observed by one of our onsite professors, at our language school.
Also have the capabilities to complete the balance of your 12 hours of practice teaching at our language school unobserved.
ITA specific job search guidance workshops during training
Networking in person with other ITA students and alumni at graduation party and other class outings
Requirements to participate in the hybrid in Leon, Nicaragua:
Complete one of International TEFL Academy's online or onsite TEFL Certification clas
ses with 25 locations worldwide.
To participate in the on site practicum/ teacher development you must complete all course work from ITA's online course and a minimum of 14 hours of observation/teaching prior to arrival in Leon, Nicaragua.
What to expect while in Leon.
On the first Monday of the week, teacher trainers will receive orientation to the program as well as a tour/highlight of the attractions not to be missed while here in Leon. Students have teacher guided instruction for 2-3 hours per day. There is a professor available throughout your planning time during the day to assist you with lesson planning. Student will complete observation on Monday and practicum teaching for 2 hours a day Tuesday – Thursday. Friday is a follow up on your job search and graduation. Participants will complete a minimum of 6 hours of practicum teaching hours in Leon Nicaragua at the Centro de Idiomas.
Interested in participating in the hybrid course through International TEFL Academy Nicaragua? Here is how to get started.
1.Speak with someone in student affairs.
2.Choose a start date that works best for you.
3.Register with International TEFL Academy Nicaragua today.
1 – 4 Week TEFL Practicum Course
Have you already completed one of ITA's online or on-site TEFL Certification courses?
You can take the 1-4 week Practicum Course in Leon. Our hybrid course is completely customizable for each student.  So if you have completed 0 or 5 of your required practicum hours for the online class, we can accommodate your needs.
Cost: $ 450
Observed practice teaching or practicum with orientation, job search guidance and everything included above.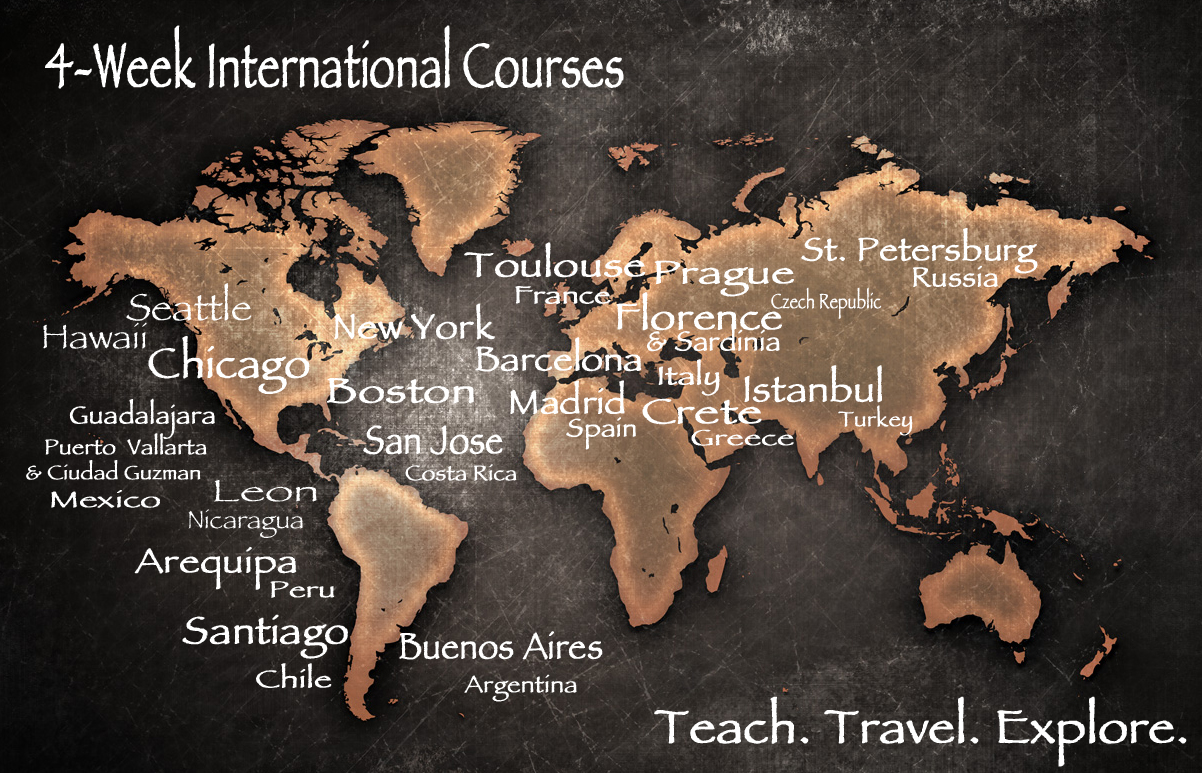 If you have already completed or are currently completing a TEFL certification program with ITA you can sign up for your one week of practicum/ teacher development in Leon, Nicaragua. Request a callback from one of our admissions advisors and begin your adventure today.
Cost of Hybrid if you have already registered for ITA's online TEFL Certification is $450. The cost of housing, food, and transportation is not included in this price.
Sample Hybrid Schedule (CAN BE SUBJECT TO CHANGE)
*We will have a teacher available to you in the afternoons Monday – Thursday and in the mornings Tuesday – Thursday. During this time you can request and receive additional lesson planning support.
 Observation and practicum w/ 6 hours of observed teaching practice and feedback
4-weeks equaling 20 practicum hours
Sample Hybrid Schedule (CAN BE SUBJECT TO CHANGE)
*See practicum for specific days of practicum teaching and levels
Week 1
Monday
Tuesday
Wednesday
Thursday
Friday
9:30am – 1:00pm

Meet to review schedules and expectations
Lesson Planning Workshop 9:30 – 11:00
Grammar Review Communicative Tasks for the 4 skills

Cultural Sensitivity & Culture Shock

1:00pm-2:30pm
Lunch and Plan Time
Lunch and Plan Time
Lunch and Plan Time
Lunch and Plan Time
11:30pm Graduation
2:30pm- 3:30pm
Intro to Spanish

Most common Spanish phrases

Free time
Free time

At the beach
5:15-5:50
Free time
Feedback
6:10- 8:10
Observation of EFL Classroom
Observation of EFL Classroom
Observation of EFL Classroom
Week 2
Monday
Tuesday
Wednesday
Thursday
Friday
9:30-11:30am

Planning support time
9 – 12 am

World Wide job market and resume workshop

12-2 Planning and Support time

Planning support time
Planning support time
5:15- 5:50
Feedback
Feedback
6:10-8:10
Practicum

Practicum

Practicum
Week 3
| | | | | | |
| --- | --- | --- | --- | --- | --- |
| | Monday | Tuesday | Wednesday | Thursday | Friday |
| 9:30-11:30am | Planning support time | Planning support time | Planning support time | Planning support time | |
| 5:15- 5:50 | | Feedback | Feedback | Feedback | |
| 6:10-8:10 | Practicum | Practicum | Practicum | Practicum | |
Week 4
Monday
Tuesday
Wednesday
Thursday
Friday
9:30-11:30am

Planning support time
Planning support time
Planning support time
Planning support time
5:15- 5:50
Feedback
Feedback
Feedback
Feedback
6:10-8:10
Practicum

Practicum
Practicum
Practicum

If you are observed this night practicum feedback may take place after your practicum.

Pick up Certificates and Signed Practicum Packets