Editor's Note: This article was updated February 2nd 2018.
Living in Nicaragua Teaching English…
If you seek a tropical Central American paradise that has yet to be discovered by tourists, cruise ships and retirees,
but offers great opportunities for teaching English, Nicaragua might just be it.  From charming cities with old colonial architecture and vibrant street life to pristine volcanic lakes and sparkling, sun-kissed beaches, Nicaragua has it all.   Not only that, it's dirt cheap, the people are friendly and the food is great! And if you want to teach English online, you can even save money here. The experience of discovering one of Central America's undiscovered gems is worth more than its weight in gold, let alone dollars, euros  or even Nicaraguan Cordoba!
Jobs – Teaching English in Nicaragua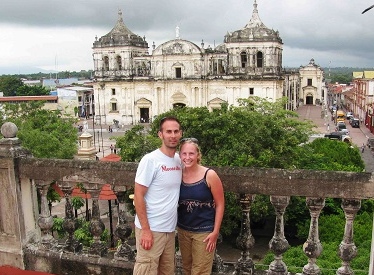 Offering an idyllic tropical climate, stunning volcanic landscapes, and fantastic beaches, Nicaragua provides an opportunity to experience a region of Central America that, unlike Costa Rica or Panama, remains largely undiscovered by tourists and retirees. Nicaragua also represents one of the fastest growing job markets for teaching English in Central America.
English teachers typically find work throughout most of the year (except December – end of January during the Christmas holiday). While there are limited opportunities to interview for jobs in advance, most language schools in Nicaragua recruit and hire new English teachers locally face-to-face.
Wages for English teachers in Nicaragua are modest, but the local cost of living is extremely low compared to the U.S. or Europe and English teachers can afford a very comfortable and enjoyable lifestyle. If you opt to teach English online, which is what most of our TEFL/TESOL graduates do, you will be able to save money. Monthly rent will rarely top more than the equivalent of $250 a month, and basic necessities like food and public transportation tend to be very affordable.  Schools offer approximately 20 to 25 hours of work per week, leaving plenty of time to travel, explore, and pursue other interests.
English teachers do not need to have a bachelor's degree to teach in Nicaragua, but it is preferred.  TEFL/TESOL
certification is required.  Most English teaching opportunities are found at English language schools in the larger cities like Leon, Managua, Granada, and San Juan del Sur. It is standard for English teachers to work on a tourist visa that can be renewed every 90 days by making a short visit to Costa Rica.
Related staff article: Get TEFL Certified at Our New Leon/Las Penitas Leon Beach Campus. 
Requirements to Teach English in Nicaragua
Peak hiring months: Mid January-Fed February & July are peaks and most people find work year round except for December – January; the traditional 'summer' break here in Nicaragua.
Types of jobs: Teaching English to children at International Schools, universities, and teaching adults at private language centers.
Typical hiring process: in-person interview in Nicaragua.
Average teaching hours per week: 25–35 hours of classroom time plus extra prep time
Types of students: Children, adolescents, and adults/business professionals
Cost of living per month:
$ 300–$ 600 USD;
C$ 7,500 – C$15,000 (cordobas)
Average monthly pay (Not Including Teaching Online):
$ 300–$ 600 USD;
C$ 7,500 – C$15,000 (cordobas)
Start-up cost: $ 750–950 USD
Potential to save or break even: Save by supplementing income with private tutoring or teaching online.
Accommodation/housing benefits paid: Sometimes discount on housing/transportation stipend/meal benefits.
Flight reimbursement: no
Getting Hired to Teach English in Nicaragua:

If you are a native English speaker in Nicaragua with a TEFL/TESOL certification you are a rarity and EVERY school will be interested in you.  (It's nice to be loved and in high demand) 100% of our graduates have found jobs who have wanted to work.
Flexibility-Some language schools run "cycles" of classes for 4-6 weeks, while other institutions, such as bi-lingual schools run 6-12 month contracts.  This means that there are always schools hiring throughout the year.  There is an exception during the Christmas season from mid-December to mid-January. Most people travel to their home countries for the holiday season.
Jobs are available at Bi-lingual schools teaching children, and private language schools teaching adults during the nights and weekends.
Degree requirements:  In most schools degree is not required however it is often preferred.  Nicaragua is a great opportunity for people without a bachelor or teaching degree. If you do have a bachelors or masters degree, this will afford you more opportunities, and higher pay salaries. 

Ages for teachers:  There are teachers working in Nicaragua from age 18-78. Younger teachers often are given priority to work with children while mature teachers do well in an adult setting.

Non-Native English speakers with a TEFL/TESOL certification who are fluent in English can easily find a job in Nicaragua, as there are relatively few native English speakers to compete with, and even fewer local teachers with a TEFL/TESOL certificate.
Cost of living & Wages: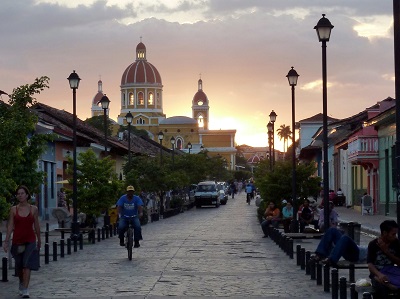 The cost of living in Nicaragua is extremely low compared to the U.S., Western Europe and most of Latin America.  The average cost of living for an English teacher is is 7,500 to 15,000 Cordobas a month which is approximately the equivalent of $ 300 – $ 600 USD a month.  Most English teachers rent a room from a family for anywhere from $ 75 – $150 a month (typically 25% of your income), and food, public transport and entertainment all very affordable.  This means it is one of the cheapest countries in the world to move to and get established before receiving your first paycheck.
Pay for teachers
Wages for English teachers in Nicaragua vary, though pay is typically much higher in the private sector, and in the major cities like Managua, Chinandega, Leon, and Matagalpa.
Pay is on average highest in the city of Managua. Teachers can expect to earn between 138 – 330 Cordoba's per hour before taxes, depending on where they choose to teach.  That is $5- $12 US Dollar per hour. That may not seem like much, but given the exchange rate, it is more than enough to live comfortably.
Most English teachers work for more than one school to gain more hours, depending on their financial needs, and usually end up with around 30-35 hours per week.
TEFL/TESOL certified teachers can charge the equivalent of $8 – $12 dollars an hour for tutoring private students.
Visas:
Most foreigners can receive a 90-day tourist visa.  To renew your visa most expats go to Costa Rica, although it is possible to renew your visa in country as well. It is an easy bus ride to the city of Libera. It takes an average of 4.5 hours to get from Managua to Liberia, Costa Rica. Crossing the border is easiest with Tica Bus. They expedite the process for you at the border making this a carefree experience for you.
Working as a foreigner in Nicaragua:
Most work on a tourist visa and leave the country every 90 days to renew their visas (typically by traveling to Costa Rica for a quick vacation). Many reputable language programs will pay 20% in taxes for working foreigners. It is also possible to get a work visa, and a handful of schools in Managua will assist teachers in this process.
Featured Article: Learn about Clara's TEFL class, and English teaching experience  in Leon, Nicaragua.
Popular cities for teaching English in Nicaragua:
Managua: The capital city is home to over 1 million Nicaraguans, and the greatest concentration of private English language schools.
León: Sometimes referred to as the "Berkeley" of Nicaragua, León is the educational hub of the country and has many bi-lingual schools, language centers, secondary and university students to tutor English as well.
Chinandega: Being only 40 minutes by microbus from Leon, many of our graduates still live in amazing Leon and commute to Chinandega.  There are several bilingual schools there.
Granada: This colonial city has been of strategic importance since its inception in 1524. A popular destination for European tourists and expatriates, Granada is home to a variety of language schools.